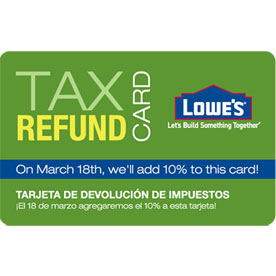 10% Bonus on Lowes Tax Refund Gifts cards starting 2/8 on gift card purchases more then $500($4000 max).
Your 10% bonus will be added after 3/18.
You can then purchase Amazon Gift cards at Lowes.
Details:
Purchase a Lowe's Tax Refund Card in store or online between Feb. 8 and March 14, and customers will receive 10 percent of that original card purchase amount added back to their card on March 18. Tax Refund Card purchase requirements are $500 minimum and $4,000 maximum, and just like any typical Lowe's gift card, they have no expiration and carry no fees
If you have a Discover Card. Log onto Discovercard.com, click shop discover retailers and select Lowes for an additional possible 5% cashback.